Please make sure that you do your research before choosing a hair transplant surgeon. It is far too often that we see people that come to have corrective surgery with Dr. Arocha after having transplants at other clinics. It is crucial that potential patients understand that once their donor area has been depleted, there is no way to regain or regrown hair in that area. 
Be an educated patient. Take the time to look and ask for photos of previous work from your potential surgeon. Your scalp and wallet will thank you for it!
Have a good weekend and enjoy the video!
-CeCe
The patient in the photos below had a FUE 2043. This gentleman came to Arocha Hair Restoration after having two previous transplants at FUE/Neograft hair restoration clinics one in Dallas and the other in Houston. These two prior surgeries left his donor picked over and thin.He was very unhappy with his results and needed Dr. Arocha to correct the work of the two previous surgeons. The video below highlight his results after just 5 months.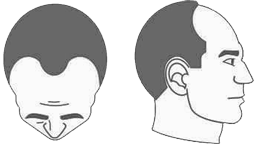 Norwood class 3
The earliest stage of male hair loss. It is characterized by a deepening temporal recession.
Patient surgery type
Repair