While hair restoration surgery is now a proven treatment for restoring hair where it has been lost, Hair loss medication such as Rogaine (minoxidil) and Propecia (finasteride), have made real contributions toward stopping and even reversing hair loss.
During the late 70's and early 80's it was discovered that minoxidil, used as a heart medication, had hair growing side effects. Minoxidil was tested for use as a topical scalp treatment for hair loss and proved to inhibit hair loss in many test subjects.
It has proven to be effective to some degree in slowing the hair loss process. For a minority of people it can even grow back lost hairs in the crown area (back of the head). However, Rogaine (minoxidil) does not slow or reverse the balding process in the frontal hairline area.
Rogaine is typically applied topically on the scalp twice a day, morning and evening. But once usage is discontinued the hair loss which had been inhibited will resume and the hair that was saved will be lost.
Rogaine originally required a prescription, but in 1995, it became available in 2% strength Rogaine over-the-counter. Today, men and women can buy 5% strength lotion over-the-counter as Rogaine or as generic minoxidil.
To date Rogaine (minoxidil) and Propecia (finasteride)are the only hair loss medications with FDA approval. Propecia's active ingredient, finasteride, was originally used to treat enlarged prostate glands. It was discovered that, like minoxidil, it had the "side effect" of stopping male pattern baldness and for some even regrowing hair.
Propecia is taken as a pill once daily and acts to inhibit the body's ability to create dyhydrotestosterone or "DHT". DHT acts as the active ingredient or catalyst in the balding process.
Rogaine and Propecia
The 90's brought great advances in hair restoration, both surgical and non surgical. Now most people can realistically halt and reverse their hair loss with truly natural results.
In 1988 minoxidil, Rogaine, became the first hair loss medication to be approved by the FDA for the treatment of hair loss.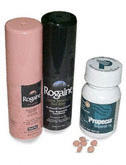 In 1998 the FDA approved Propecia for the treatment of hair loss. Propecia (finasteride) should NOT be taken by woman or children for any reason.