Brilliant Hair Loss Treatment, or is it a Scam?
ElectroTrichoGenesis (ETG), also known as Cosmetic TrichoGenesis (CTG), is a little known hair loss treatment that makes some very lofty hair growth claims. How does ETG work and is it really clinically proven to treat androgenic alopecia(genetic balding)?
How ElectroTrichoGenesis (ETG) Works
ETG is promoted as a safe, painless and non-intrusive. Treatment is administered via an "ergonomically shaped couch with a semi spherical hood" manufactured by Current Technology Corporation in Vancouver, Canada.
The patient reclines on the chair and the hood (with disposable liner) is placed over the head but does not make contact with the scalp. This special hood contains electrodes that deliver "specified pulsed electrostatic energy" delivered passively to the scalp by the low-level electric field generated within it.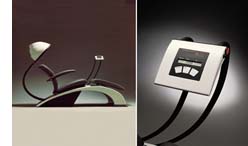 ETG is believed to stimulate the regrowth of hair through the positive influence of the pulsed electrostatic field it generates. This field is said to stimulate "changes within the hair bulge and the follicle, stabilizing hair loss and stimulating new hair growth". Patients receive a single 12 minute session weekly.
Is ETG Clinically Proven?
The following three studies on the efficacy of ElectroTrichoGenesis (ETG) as a treatment for thinning hair have been published in peer-reviewed journals:
Maddin, W. Stuart; Bell, Peter W.; James, John H. M. (1990).
"The Biological Effects of a Pulsed Electrostatic Field with Specific Reference to Hair Electrotrichogenesis". International Journal of Dermatology29(6): 446–450.

Benjamin, Benji; Ziginskas, Danute; Harman, John; Meakin, Timothy (2002).
"Pulsed electrostatic fields (ETG) to reduce hair loss in women undergoing chemotherapy for breast carcinoma: A pilot study". Psycho-Oncology11(3): 244–248

Maddin, WS; Amara, I; Sollecito, WA (1992).
"Electrotrichogenesis: further evidence of efficacy and safety on extended use". International Journal of Dermatology31(12): 878–80
According to the 36-week comparative, controlled study conducted on male subjects at the University of British Columbia and published in The International Journal of Dermatology, 96.7% of those treated experienced cessation of hair loss and/or hair regrowth. Decreased hair loss was seen as early as 4 to 6 weeks but many patients required more time for results.
The pilot study conducted on women undergoing chemotherapy for breast carcinoma and published in  Psycho-Oncology,showed that twelve out of 13 participants had good hair retention throughout the chemotherapy period and afterwards with no reported side effects.
As with the clinically proven medical hair loss treatments Rogaine (minoxidil) and Propecia (finasteride), ETG is said to be most effective in the early stages of balding.
Conclusion
Although the data put forth in this article seems to paint ETG as a clinically proven and highly effective hair loss treatment, it's important to note that the procedure is not new. The studies referenced above were published more than 13 years ago. If ETG truly works to stimulate hair growth and suppress the advancement of hair loss, why has it not become a fixture in the world's leading hair restoration clinics? Where are all the glowing, unbiased reviews?
With no reported side effects, there may be no harm in giving ETG a try if there is a provider in your area and the fees are reasonable. However, balding men and women are encouraged to consult with an experienced and reputable hair restoration physicianin order to diagnose the cause of their thinning hair and learn about the outstanding medical and surgical options available today.