Scalp Med TV infomercials, like many hair loss products, claim to sell FDA approved hair loss products. Pictures, videos, and testimonies on television show hair loss sufferers regrowing hair even when men and women were completely bald. Is this really what balding people can expect from Scalp Med? Below we examine Scalp Med and unlock the mystery ingredients and whether or not any clinical proof exists that this hair loss solution can treat baldness.
Scalp Med includes 3 distinct products including topical Vitadil-5A for men or Vitadil-2A for women, topical NutriSol-RM, and Cortex Enlarger hair thickening spray.
Vitadil-5A for men or Vitadil-2A for women is a topical solution that contains the proven hair regrowth solution minoxidil, also found in Rogaine and Xandrox. It's also said to include a unique delivery agent formulated to increase the absorption of 5% minoxidil for men, 2% for women.
Scalp Med is a bit more vague as to the ingredients found in the NutriSol-RM topical and the Cortex Enlarger thickening spray. While NutriSol-RM topical is designed to add essential nutrients to the scalp for healthier hair, the Cortex Enlarger hair thickening spray's primary purpose is to temporarily fatten the hair follicles making hair appear thicker.
Scalp Med is upfront that the ingredients found in the NutriSol-RM shampoo and Cortex Enlarger hair thickener will not stop hair loss or cause hair regrowth.
Scalp Med also offers a detoxifying cleanser kit which includes a detoxifying shampoo called Panthenol-DX Scalp Detoxifier. This shampoo is designed to deeply cleanse the scalp without stripping the hair of its natural oils and nutrients. Unless your thinning hair is due to pollutants or toxins affecting natural hair growth, Panthenol-DX Scalp Detoxifier won't stimulate new hair growth. Scalp Med's Panthenol-DX does nothing to stop the natural progression of genetic female hair loss and male pattern baldness.
To supplement Scalp Med's hair loss treatment program, Scalp Med offers a Mega-Multi Vitamin to increase overall body health.
Scalp Med can legally claim that it's product contains an FDA approved ingredient since Scalp Med does contain minoxidil, which is a FDA approved topical treatment for hair loss. However, Scalp Med its self has not been granted FDA approval. Though Scalp Med's other products may work to promote healthy hair, it's the minoxidil that gives balding men and women any hope of restoring their hair.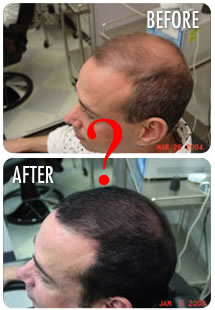 Unfortunately, Scalp Med's marketing infomercials makes it appear that completely bald men and women have hope of regrowing a full head of thick and healthy hair. However, the words "Results seen are not typical" can be seen in small fine print at the bottom of your television.  Additionally, Scalp Med's website FAQ makes it clear that no non-surgical hair loss solution is proven to grow hair in completely bald areas.
There are several proven success stories that minoxidil can stimulate hair regrowth in areas of thinning hair. Therefore, Scalp Med's Vitadil-5A should be as effective as 5% minoxidil just as Vitadil-2A should be as effective as the 2% solution.
Scalp Med is about 3 times the cost of minoxidil. A two month supply of Scalp Med is approximately $160.00. Discounts are available if you buy in bulk. However, even in bulk, the net cost ends up around $64 per month as opposed to the $20 per month cost of Rogaine. Generic minoxidil costs even less.